We all love a Sausage the comforting meal that keeps everyone in the family happy In 2017 in the UK, 3.7 millions of sausage meals were eaten every day.  That's 1.35 billion sausage-based meals a year. There are so many ways of cooking the sausage, from grilled, fried, baked, barbequed, in sauces, with gravy, mashed potatoes, in a sandwich ( tomato or brown sauce) , on a breakfast, and many more.
More sausages are eaten as part of an evening meal  than at breakfast (21%) or lunch (just 16%).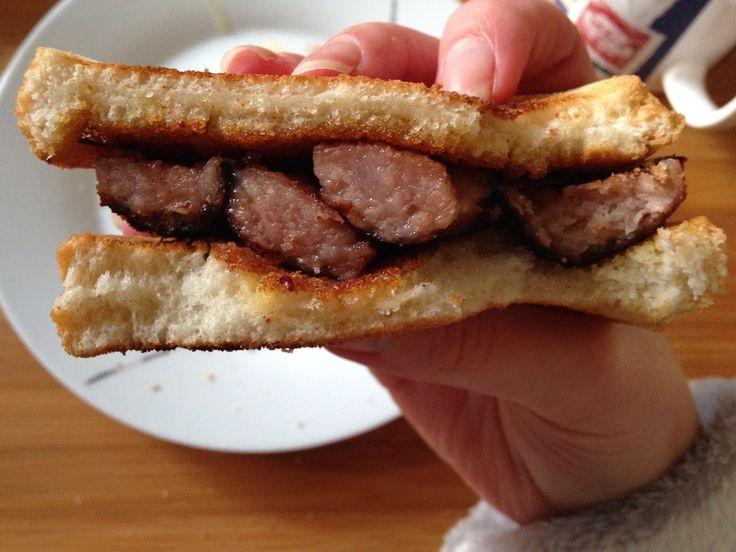 A good sausage?
A good British sausage has high-quality meat with seasoning and breadcrumbs. Across the UK, there over 500 regional varieties of sausages and these are just some of our favourite BARRETS Sausage:
Pork and Tomato Sausage: Pork Sausage mixed with our own blend of special spices, tomato powder and tomato puree for the extra tomato taste.
Thick Pork Sausage – A Pork Sausage made with prime cuts of Pork and our own special blend of spices. We then fill a larger amount Sausage mix into natural casing for those that prefer a Thick Sausage and hand link for a traditional look.
 Lincolnshire Sausage Premium Range – Everyone's favourite. A Pork Sausage mixed with a blend of special spices and mixed herbs.
Pork and Cracked Black Pepper Sausage Premium Range – A connoisseur's favourite. Pork Sausage made with prime Pork and our blend of special spices with added cracked black pepper for an extra kick. We then fill the Sausage mix into natural casing and hand link for a traditional look.
 Pork, Sage and Red Onion Sausage Premium Range  – A tasty treat! Pork Sausage made with prime cuts of Pork and blended with our own unique seasoning with added sage and red onion.
Cumberland Sausage – Premium Range A family favourite! A pork Sausage made with Pork Belly and Pork Shoulder with sage and black pepper.
Lamb and Mint Sausage – Lambtastic Sausage. Shoulder and breast of Lamb mixed with spices and mint.
Old English Sausage– Perfect for every families dinner table! Developed from an old family recipe that makes this the perfect Sausage. Made with Pork, spices, parsley and mixed herbs.
Pork and Garlic Sausage -If you like garlic, but not a too spicy Sausage then this one is for you. Pork, spices and garlic powder.
Extra Lean Pork Sausage – Premium Range – A healthy tasty treat! A Pork Sausage with a high meat content mixed with our own blend of spices.
Jumbo Sausage – Made with Pork Belly and Pork Shoulder, mixed with our own blend of unique spices.
Cocktail Sausage– The ultimate party sausage! Pork Sausage made into the ideal size for parties.
Pigs in Blankets – Everyone's favourite at any time of the year! Pork cocktail Sausage wrapped by hand in Streaky Bacon.
Brazilian style Sausage – Football Fever!!! Developed for the 2014 World Cup, the Sausage was so in demand and a success it stayed on the production list. Made with Pork Shoulder and Belly Pork, mixed with spices, onion, parsley, garlic, chilli powder and some chilli flakes for that extra Brazilian kick.
Pork and Black Pudding Sausage – Pork, spices and herbs mixed with Black Pudding for the ultimate breakfast Sausage. 
Pork and Leek Sausage – Everyone's favourite. Pork Belly and Pork Shoulder mixed with spices and leek
Cotswold Sausage – A tasty treat! Prime cuts of Pork used with our own blend of seasoning and a touch of sage.
Hot Spanish style Sausage – Premium Range – Some European favour! A tasty Pork Sausage with a blend of Mediterranean herbs and spices. Ideal for parties and can be eaten hot or cold.
Pork, Chilli and Garlic Sausage Premium Range – Not for the faint hearted. Pork with our own mix of spices, garlic and chilli powder.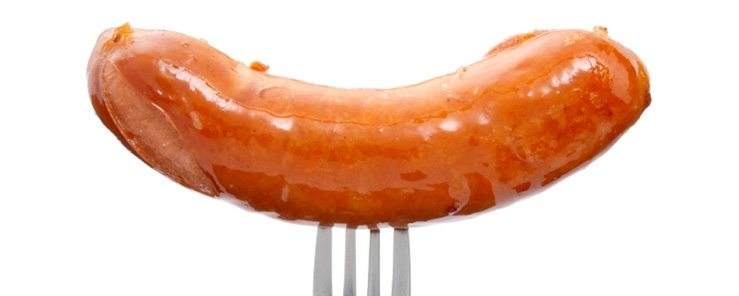 Cooking Sausages
The key to a good sausage is to cook them slowly, or they may burst!  Cook for 15 – 20 minutes and keep turning them around in the pan, so they cook evenly on all sides.All meat juices running off should be clear.
Why Sausages Are Called Bangers
When cooking sausages, they must be cooked slowly or they will burst or bang. Hence the name bangers, the habit of sausages bursting with a bang when fried too quickly.
Favourite Recipes for you to try
Toad in the hole
Ingredients 
Serves: 4 
8 Pork sausages
1 tablespoon vegetable oil
225g (8 oz) plain flour
4 eggs
250ml (8 fl oz) milk
salt and pepper to taste
Method
Prep:10min  ›  Cook:30min  ›  Ready in:40min 
Preheat the oven to 200 degrees C /gas mark 6.
Pour some oil into the bottom of a baking dish, and arrange the sausages over it in a single layer. Bake for 10 minutes in the preheated oven.
Meanwhile, in a medium bowl, whisk together the flour, eggs and half of the milk until smooth. Gradually mix in the rest of the milk until a smooth batter is achieved. Season with salt and pepper.
Remove the sausages from the oven, and ladle the batter over them until the sausages are 3/4 covered. Return to the oven, and bake for 35 minutes, or until the centre is risen and browned. Don't worry if the underside seems slightly soft, as this is normal.
Sausage Rolls
Ingredients 
Serves: 12 
500g pork Sausage Meat
1 (500g) packet puff pastry
4 tablespoons Dijon mustard
1 beaten egg
Method
Prep:15min  ›  Cook:20min  ›  Ready in:35min 
Preheat the oven to 200 C / Gas mark 4.
Unfold the puff pastry sheets, and cut along the fold lines of each sheet to form 6 equal squares for a total of 12 squares. Brush each square with mustard. Divide sausage into 12 pieces, and roll into small logs. Place one log on each square. Roll pastry around the sausage, and seal with a bit of beaten egg. Place rolls onto an ungreased baking tray, and brush the tops with the rest of the egg.
Bake for 20 minutes in the preheated oven, or until the rolls are puffed and golden. I usually watch after 10 minutes or so to make sure they don't burn. These freeze (unbaked) very well.
Slow cooker sausage casserole
Ingredients
2 red onions, finely chopped
1 celery stick, finely chopped
1-2 tbsp rapeseed oil
4 carrots cut into fat pieces
12 sausages, each halved
1 sweet potato
peeled and cut into chunks
400g tin tomatoes
1 tbsp tomato purée or tomato and veg purée
1 thyme sprig
1 rosemary sprig
1 beef stock cube or stock pot
Method
Fry the onion and celery in the oil over a low heat until it starts to soften and cook, about 5 mins, then spoon it into the slow cooker. Fry the carrots briefly and add them too.
Brown the sausages all over in the same frying pan – make sure they get a really good colour because they won't get any browner in the slow cooker. Transfer to the slow cooker and add the sweet potato and tomatoes.
Put the purée in the frying pan and add 250ml boiling water, swirl everything around to pick up every last bit of flavour, and tip the lot into the slow cooker. Add the herbs, stock cube and some pepper. Don't add salt until the casserole is cooked as the stock can be quite salty. Cook on high for 4 hrs or on low for 8 hrs, then serve or leave to cool and freeze.
Classic sausage & mash
Ingredients
12 Sausages
500g potatoes
, chopped into even-sized chunks
25g butter
, plus extra to serve
50ml milk
2 carrots
, sliced
250g  broccoli
, separated into florets
198g sweetcorn
Method
Heat oven to 200C/180C fan/gas 6. Put the Sausages on a baking tray and bake in the oven for 25-30 mins or until cooked through and golden.
Put the potatoes in a large pan of water and bring to the boil. Simmer for 20 mins, drain and allow to steam-dry. Push through a potato ricer (if you have one) or mash well with a potato masher.
Put the carrots and broccoli in a steamer set over a pan of simmering water, and steam for 6-8 mins or until just tender. Put the sweetcorn in a small pan with about 3 tbsp water and heat through for 3-5 mins.
Warm the butter and milk in a saucepan until the butter has melted, then pour over the potatoes. Beat well until creamy, then season well. Pile the Sausages onto the mash and top with a knob of butter so that it melts over everything. Serve with the broccoli, carrots and sweetcorn on the side.